EARTH WALKS VANCOUVER
Back by popular demand! False Creek Watershed Society has partnered with Village Vancouver to offer a series of "Earth Walks".
We live in the city of Vancouver with almost a million other residents. We are blessed to be surrounded by mountains, forests, oceans and rivers. But how well do we know about nature in our own backyard? The Earth and the natural world are present everywhere – from the arboretum of Queen Elizabeth Park to the buildings of downtown Vancouver to our last wild salmon stream to the farm flats of Southlands and even as nature applies to human economic theory!
The leaders are amazingly knowledgeable in their specialty – so come along to listen to their words, connect with the land and ask lots of questions!
Register for all the events at http://www.falsecreekwatershed.org/events.html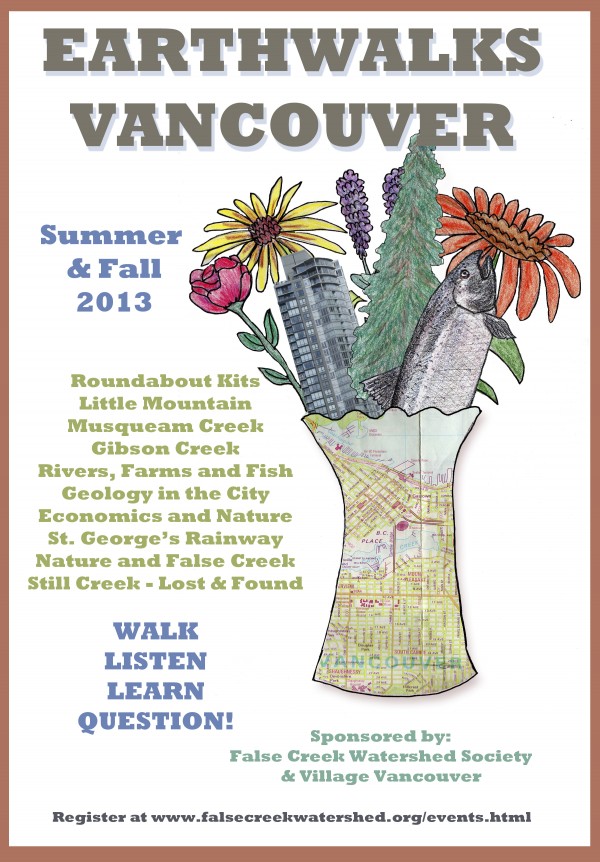 1) "Rocks, Reservoirs and Rainforest: a Historical Walk Around Little Mountain" with Celia Brauer
Sunday June 30 10:30 – 12:30
Queen Elizabeth Park is a jewel of green in the middle of our city. In the 1950s some visionary people at the Vancouver Parks Board planted a beautiful arboretum and we can appreciate their foresight today. There are many water features in the park, some rock outcrops, lots of unique plant and tree specimens and some very tall older conifers. We will discuss the human history of the area before and after settlement.
Rain or shine. Please wear footwear for possible slippery surfaces.
Celia Brauer is an Artist, an Educator and the founder and Staff of the False Creek Watershed Society (FCWS). She has organized community walks for FCWS for years and is very knowledgeable about the natural and First Nations history of Vancouver.
Register here for "Earthwalks1 – LittleMountain"
2) "St George Rainway & Street Walking Tour" with Greta Borick-Cunningham
Saturday July 6, 1:00 PM -3:00 PM
Greta will walk north from there along St. George's to describe where the creek went and what the plans are for the daylighting; bringing the creek back to life.
At 7th and St. George's she will stop to discuss the new mural! This mural was created by the St. George Street Rainway group. It was created to bring awareness about the proposed daylighting of St. George's Creek.
By donation. Rain or shine.
Greta Borick Cunningham is a keen naturalist and very interested in the local ecosystems. She just completed a Diploma at BCIT in Sustainable Resource Management. She lives on St. George Street, is part of the Rainway group and also is the Chair of the False Creek Watershed Society. She is currently working as the Executive Director >at the Alouette River Management Society in Maple Ridge.
Register here for "Earthwalks2 – StGeorges"
3) "The Geology of Downtown Vancouver—a tour of buildings and monuments" with David Cook
Thursday, July 25, 12:00 PM to 3:00 PM
We will examine the exterior and interior of a number of buildings in downtown Vancouver to look at the various natural building stones used in construction and decoration. The provenance, geology and suitability of these materials will be explained. We will note how their use has changed over time according to availability, cost, custom and durability. This will also be an opportunity to learn about the history of the buildings, their architecture, rock quarrying methods and architectural/masonry terminology.
Rain or shine By donation.
David Cook is a local Biologist and Geologist. He ahs been leading leading walks for several organizations over the last 13 years, The themes of these walks are very varied and lie within the fields in the two areas in which he graduated and worked over a lifetime.
Register here for "Earthwalks3-Geology"
4) "Economics in Place and Time" with Michael Barkusky
Sunday, July 28, 1:00 PM -3:00 PM
Not long ago False Creek was a tidal inlet surrounded by old-growth forests and salmon streams. Since the settlers arrived in the late 19th century the area has gone through a great transformation. The "natural capital" – trees, fish, sealife – soon disappeared as its value was high on the industrial market. Then sawmills lined the shores as the timber was processed. Pollution filled the creek – reducing the value of the waters and killing even more sealife. When the sawmills ceased, gradually the toxic sediments settled and now the creek is lined with highrises full of "human capital". What is the economic meaning of this transformation? How is the present landscape a measure of wealth compared to the old one?
By donation Rain or shine.
Michael Barkusky has a BA Honours in Economics from the University of Cape Town and a Master in Business Administration from UBC. He has operated his own accounting firm for many years. Michael's main interest and specialty is Eclogical Eoonomics—a discipline that was created 40 years ago which has not, Michael beleives, been put to good enough use in our modern day society.
He is a keen conservationist and is very concerned about the health of our local ecosystems and the state of the natural systems of the planet as a whole. He presently also works as a part time Administrator for the Coastal First Nations who are seeking to keep the ecological integrity of the Great Bear Rainforest.